Reactor for Awareness in Motion
Artist:YCAM InterLab + Yoko Ando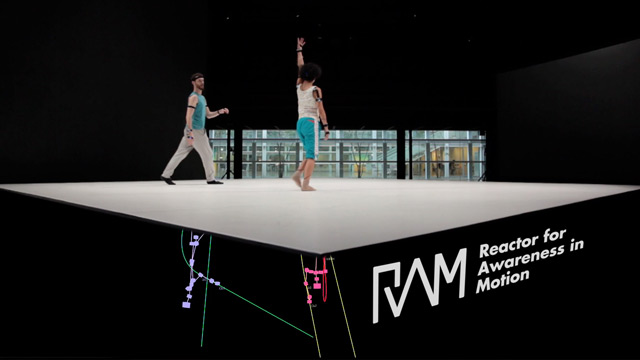 Reactor for Awareness in Motion (RAM) is a revolutionary project in the sense that the technology is not only for theatrical effect but also to inspire dancers' imagination to create movements.
Rather than simply repeating movements predetermined by a choreographer, RAM considers dancers as agents with evolving imaginations that seek and respond to information in their surrounding environments. In the context, a dance should vary with respect to the environment, the associations the dancers make and how they identify themselves in the space.
RAM has developed RAM Dance Toolkit: a reactive device that generates inspiring, imagined, real-time, virtual environments for dancers. Within these virtual environments, the dancers and technology are interdependent. Both the dancers and the environment are constantly reacting and evolving, allowing the dancers to push the limits of their imaginations through experimentation, improvisation and adaptation.
The dancer's movements can be input into the program using MOTIONER. MOTIONER is inertial motion capture system which has been developed for RAM with feedback from dancers that resulted in a light weight, low-stress, and low latency system.
Source code of RAM Dance Toolkit, and the creation process of MOTIONER open source on the RAM website. RAM strives to develop a community of users and programmers who can share open source codes and further contribute to the evolution of this futuristic approach to dance.
RAM is presented in the form of experimental performance in the 8th Taipei Digital Art Festival, and demonstrates an on-going trend of future performing arts through a series of workshop, demonstration, documentary display and live recording.